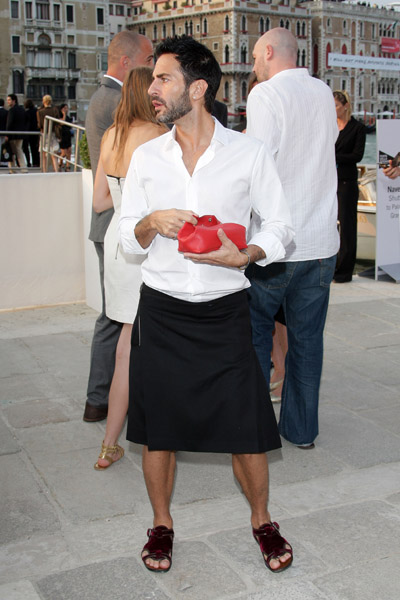 Talks between Dior and Marc Jacobshave come to a halt, WWD is reporting. Jacobs had been the number one name to succeed Galliano at Dior; a deal seemed imminent. But as Jacobs was keen on taking his entire design team from Vuitton with him to Dior, and Phoebe Philo–the name floated as the one likely to take over for Jacobs at LVMH's luxury linchpin–was keen on keeping on with her minimalist jam at Celine, it's back to the drawing board. Alexander Wang (so apparently that rumor was true), Jason Wu and Raf Simons are among the candidates who have been approached, according toWWD.

A source tells the paper that while it's possible that talks will resume between Jacobs and Dior, LVMH president Bernard Arnault is refocusing his search on finding a designer "whether young or mature — with a strong affinity and respect for the brand's glamorous DNA, and a vision for taking it forward in the post-Galliano era."
And apparently that young designer could be one of New York's darlings, Alexander Wang or Jason Wu; or Raf Simons, the man with the golden touch at Jil Sander. While it's hard to envision Alexander Wang's relaxed, tough, street aesthetic translating to Dior's hyper-ladylike '50s glamor, Jason Wu makes a bit more sense. And Simons, the critic's favorite, has obviously got the design chops.
Perhaps it was not a coincidence that Wu and Simons, now both known contenders for the Dior job, chose to show '50s inspired collections this past season. An audition for the role?
Of course, there is one other designer who could do the job and that's Galliano.Vogue UK suggests that because leaders of the fashion community, like Manolo Blahnik and Franca Sozzani, have both said they'd like to see Galliano back at Dior that his return to the house is a possibility. Seems unlikely but there you have it.
Bill Gaytten, Galliano's studio assistant, who is still at the helm at Dior while the search for a successor drags on, hasn't been well received. His first couture collection for Dior was slammed and his ready-to-wear collection didn't fare much better, though sales haven't been affected.