Anna-Lou "Annie" Leibovitz
(pronounced
/ˈliːbəvɪts/
; born October 2, 1949) is an American portrait photographer.
rn in Waterbury, Connecticut, Leibovitz is the third of six children. She is a third-generation American whose great-grandparents were Jewish immigrants, from Central and Eastern Europe. Her father's parents had emigrated from Romania.
Her mother, Marilyn Leibovitz, was a modern dance instructor of Estonian Jewish heritage; her father, Sam Leibovitz, was alieutenant colonel in the U.S. Air Force. The family moved frequently with her father's duty assignments, and she took her first pictures when he was stationed in the Philippines during the Vietnam War.
In high school, she became interested in various artistic endeavours, and began to write and play music. She attended the San Francisco Art Institute, where she studied painting. For several years, she continued to develop her photography skills while working various jobs, including a stint on a kibbutz in Amir, Israel, for several months in 1969.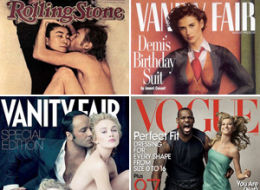 When Leibovitz returned to the United States in 1970, she started her career as staff photographer, working for the just launched
Rolling Stone
magazine. In 1973, publisher Jann Wenner named Leibovitz chief photographer of
Rolling Stone
, a job she would hold for 10 years. Leibovitz worked for the magazine until 1983, and her intimate photographs of celebrities helped define the
Rolling Stone
look.
While working for
Rolling Stone
, Leibovitz became more aware of the other magazines. Richard Avedon's portraits were an important and powerful example in her life. She learned that you can work for magazines and still do your own personal work, which for her was the most important thing. It is much more intimate and tells a story for her as she works with people who love her and who will "Open their hearts and souls and lives to you."
Photographers such as Robert Frank and Henri Cartier-Bresson influenced her during her time at the San Francisco Art Institute. "Their style of personal reportage - taken in a graphic way - was what we were taught to emulate."
Leibovitz photographed The Rolling Stones in San Francisco in 1971 and 1972, and served as the concert-tour photographer for Rolling Stones Tour of the Americas '75. Her favorite photo from the tour was a photo of Mick Jagger in an elevator
.
On December 8, 1980, Leibovitz had a photo shoot with John Lennon for
Rolling Stone
, promising him that he would make the cover.
She had initially tried to get a picture with just Lennon alone, which is what
Rolling Stone
wanted, but Lennon insisted that both he and Yoko Ono be on the cover. Leibovitz then tried to re-create something like the kissing scene from the
Double Fantasy
album cover, a picture that she loved. She had John remove his clothes and curl up next to Yoko. Leibovitz recalls, "What is interesting is she said she'd take her top off and I said, 'Leave everything on' — not really preconceiving the picture at all. Then he curled up next to her and it was very, very strong. You couldn't help but feel that she was cold and he looked like he was clinging on to her. I think it was amazing to look at the first Polaroid and they were both very excited. John said, 'You've captured our relationship exactly. Promise me it'll be on the cover.' I looked him in the eye and we shook on it."
Leibovitz was the last person to professionally photograph Lennon—he was shot and killed five hours later
In the 1980s, Leibovitz's new style of lighting and use of bold colors and poses, got her the position with Vanity Fair magazine. Leibovitz photographed celebrities for an international advertising campaign forAmerican Express charge cards, winning her a Clio award in 1987.

In 1991, Leibovitz mounted an exhibition at the National Portrait Gallery. She was the second living portraitist and first woman to show there. Leibovitz had also been made Commandeur de l'Ordre des Arts et des Lettres by the French Government.

Also in 1991, Leibovitz emulated Margaret Bourke-White's feat, when she mounted one of the eagle gargoyles on the 61st floor of the Chrysler Building in Manhattan, where she photographed the dancer David Parsons cavorting on another eagle gargoyle. Noted

Life

photographer and picture editor John Loengard made a gripping photo of Leibovitz at the climax of her danger. (Loengard was photographing Leibovitz for the

New York Times

that day).

A major retrospective of Leibovitz's work was held at the Brooklyn Museum,

Oct. 2006 - Jan. 2007

. The retrospective was based on her book,

Annie Leibovitz: A Photographer's Life, 1990–2005

, and included many of her professional (celebrity) photographs as well as numerous personal photographs of her family, children, and partner Susan Sontag. This show, which was expanded to include three of the official portraits of Queen Elizabeth II, then went on the road for seven stops. It was on display at the Corcoran Gallery of Art in Washington, D.C., from October 2007 to January 2008, and at the Palace of the Legion of Honor in San Francisco from March 2008 to May 2008. In February 2009 the exhibition was moved to Berlin,Germany.The show included 200 photographs. At the exhibition, Leibovitz said that she doesn't have two lives, career and personal, but has one where assignments and personal pictures are all part of her works. This exhibition and her talk focused on her personal photographs and life.
In 2007, the Walt Disney Company hired her to do a series of photographs with celebrities in various roles and scenes for Disney Parks "Year of a Million Dreams" campaign.



Leibovitz claims she never liked the word "celebrity". "I've always been more interested in what they do than who they are, I hope that my photographs reflect that." She tries to receive a little piece of each subjects personality in the photos.


"I took part in a photo shoot that was supposed to be 'artistic' and now, seeing the photographs and reading the story, I feel so embarrassed. I never intended for any of this to happen and I apologize to my fans who I care so deeply about."
"I'm sorry that my portrait of Miley has been misinterpreted," Leibovitz said. "The photograph is a simple, classic portrait, shot with very little makeup, and I think it is very beautiful."