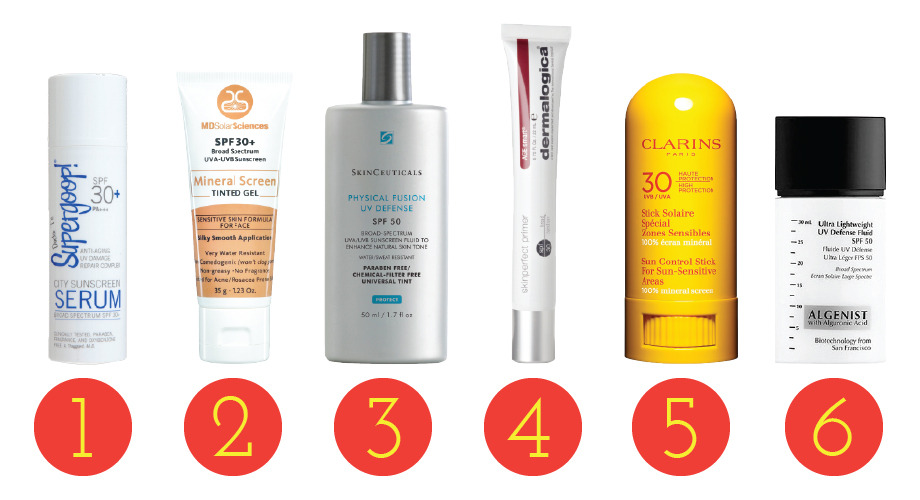 Sticky, smelly, and pasty—the conventional SPF formulas of yesteryear are long gone, thanks to a new wave of technology! And it's not just the standard spritz and slather formulations we're into—sunscreen now comes in many different forms to fit your lifestyle and beauty routine. Since SPF 15 doesn't cut it anymore with the FDA's new regulations, doctors and dermatologists alike recommend a broad-spectrum formulation of at least 30 (learn more SPF tips from the experts here!).
1. METROPOLITAN MULTITASKER
Supergoop! SPF 30+ City Sunscreen Serum
With serums poised as the "superfood of skin care," it only makes sense to create an SPF-based formula. Supergoop!'s moisturizing, multitasking serum helps increase cell turnover, and its key ingredient, Uniprotect P-T3, actually reduces UV-induced oxidation by 32% in two days!
2. BUILT-IN BRONZE
Those with oily skin benefit from a lighter base, and MD Solar Science's gel is just the ticket! With a silky, silicone-based texture, the SPF gel serves double-duty as shine control without any piling. The subtle bronze tint provides your complexion with a tiny hint of color, so look like you've spent time outdoors without the wrinkle worry.
3. SHINING ARMOR
Skinceuticals Physical Fusion UV Defense SPF 50 (new 125mL size)
Titanium dioxide and zinc oxide are the heavyweights in sun protection—notoriously thick and balmy in texture. But what if we told you that you can wear a physical blocker without the ugly finish? Skinceuticals' revolutionary nanotechnology micronizes the iron oxide spheres, thinly dispersing them over your skin. The cosmetically elegant formula feels invisible immediately after application—no goopy or tacky mess! It's one of our favorites for sensitive skin.
4. MAKEUP MATCH POINT
Dermalogica SkinPerfect Primer SPF 30
If sunscreen ruins a flawless makeup finish, you'll never wear it! That's why the folks at Dermalogica designed an SPF 30 that's skin care, sun protection, and makeup primer all in one. With a combination of silica, polymers, pearl powder, and soy protein, SkinPerfect conditions and evens out the skin's surface, creating a smooth, sun-protected canvas to work on. A potent cocktail of White Tea, peptides, and Sodium Hyaluronate works extra-hard to fight signs of UV-damage.
5. SCREEN-SAVER
Clarins SPF 30 Sun Control Stick
Ever find yourself en route to the beach without a tube of SPF? We've been there before, and had the sunspots and burns to prove it. That's why we love Clarins' newest SPF mini stick! Housed in a happy shade of yellow-orange, the 100% mineral filter was made for extra touch-ups on the most burn-prone parts of your face and body, (nose, lips, and shoulders) and looks adorable in your travel bag.
6. RADICAL TECH
Algenist Ultra Lightweight UV Defense Fluid SPF 50
Thanks to its revolutionary, patented alguronic acid-based formula, the antioxidant-rich blend of botanicals in this SPF actually helps skin fight free radicals as it physically protects your complexion. The silky, lightweight finish reminds us of milky sunscreens popular in Asia—with no white cast leftover.