Gabrielle "Coco" Chanel
praised
Cristóbal Balenciaga
as "the only true couturier among us" and
Christian Dior
referred to him as "the master of us all." Now 40 years after his death, the master's personal archives will go on public display for the first time at Paris'
Musée Galliera
, featuring documents, costumes, fabric fragments and even doll's clothes that were bequeathed to the museum in 1979.
"It's very random, spontaneous — put together over the course of a lifetime, travelling round the world, presents from friends. He wasn't a specialised collector," said Galliera director Olivier Saillard.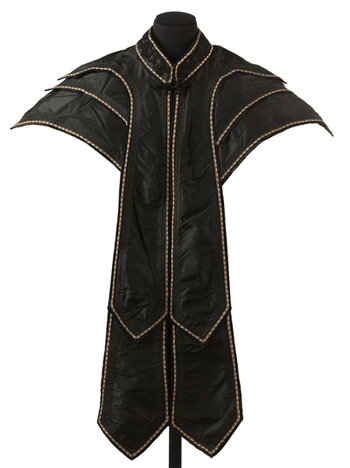 As he was greatly influenced by the 19th century, despite revolutionizing women's fashion in the 20th, the exhibition brings together Balenciaga's creations with some of the sources of his inspiration. To wit, Balenciaga's sculptural couture confections are juxtaposed with their historical counterparts from 100 years earlier.
"He invented, at least in part, the vocabulary of 20th century fashion," noted Saillard, "yet the paradox is he was very nourished by the epoch before."
One cannot fully discuss Balenciaga without mention of his passion for Spanish religious dress and regional costume, which the exhibition duly explores with formal coats inspired by the vestments of cardinals and boleros and capes reminiscent of those worn by bullfighters on display.
Cristóbal Balenciaga: Collectionneur de modes opens today in Paris and will run through October 7, but if you can't make it to the City of Lights by then, try to console yourself with this write-up of the Queen Sofia exhibit on Balenciaga that closed in February