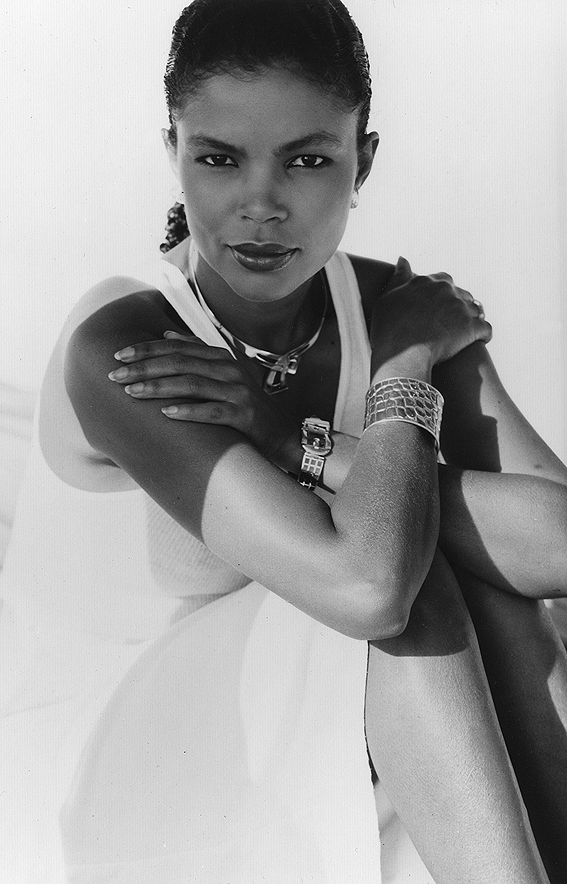 In the 1960s, the 1970s, black models shined, and very, very few shined as lustrously as Jany Remponeau Tomba, who became one of the USA's very first black supermodels. Her modeling career spanned three decades, with her face appearing on the cover of American Girl, Woman's Day, Mademoiselle, Essence, not to mention groundbreaking ads for Coke, Maxi, Johnson and Johnson products, Clairol, and other famous brands. Tomba's journey as a model started with her arrival as a young immigrant in New York in the mid-1960s.
A stunningly beautiful girl, she had a dimpled smile, shapely legs, high cheek bones, and a remarkable face that could have given any onlooker the impression that she she had had angels in her parental lineage. Not too long after Tomba's arrival in the United States, she caught the eye of a photographer who asked permission to take her photo. Tomba refused outright.
Her next encounter with the fashion world would occur not long after—this time she was approached by a woman who told the young Tomba that she was from the publishing conglomerate Conde Nast. The woman was at the time the beauty editor at Glamour magazine, and Tomba, blessed with good sense accepted her invitation into the upscale offices of magazine. From there, Tomba was groomed; sent to a beauty shop for a hair makeover, and assigned to a fashion photographer, and thus begun her ascent in the world of high fashion. The little girl from Port-au-Prince, who had originally had her mind set on a medical career, signed to Ford, one of Fashion Land's most prestigious modeling agencies then and now. She was in high demand everywhere, strutted her stuff at casting auditions, dimpled for photographers, and landed in the pages of the fashion world's most popular magazines, including Time.
An Editor from Glamour Magazine came up to me one day, and asked me to come to her office. It was that simple. I was sent to Kenneth Beauty Salon which was a very prominent Hair Salon in a brownstone in midtown. Then, I was sent to George Barkentin, a photographer, for some photographs.
Before that I had been approached by a woman photographer who wanted to take pictures of me; I had declined because I didn't know her and was not sure.
When I first immigrated, I met two people who became my first friends inNew York City: one was an artist fromItaly, Amedeo Curateli. His friend was an American model at that time, Catherine Ursillo. She later became a photographer. We became fast friends; we had a certain mentorship: I tagged along to parties, Catherine took pictures.
I always had pride and conviction about where I come from. I don't recall having a problem with being from Haiti. I love being from Haiti. I never denied it nor felt it was to be hidden.Haitichose me.
If I was up for a speaking role, my accent sometimes got in the way. The role would go to someone with an American accent. I never took it personally. it was a question of casting whatever talent was right for a part.
You've discussed modeling in the 1960s, but what did it feel like to be a new immigrant in the mid-1960s…the transition from Haiti to New York?
As difficult as it was to leave my homeland I welcomed the new adventure. I did miss my grandmother and my friends, but I loved being in New York. It was a very cold day in March. It had been snowing and the ground was covered. Everything was new. I was so young and as long as I had my family I felt secure. We lived in upper Manhattan in a very nice building and I loved the elevator! I was fascinated by the constant lights in the city. I remember thinking there are no trees, the streets seemed so sterile! I missed the crawling lizards. The transition was pretty smooth and in the summer I discovered Central Park, Coney Island and the Museums and Greenwich Village, where an abundance of art made up for my green land.
For each model, there is an ending point. What was your life like after modeling?
My career lasted from 1969 till 1998 when I landed my last cover for an Essencepublication with my then teen daughter. While I was modeling I continued to show up for casting calls and I busied myself doing small parts and extra work in movies around New York City. I was always busy.
What are you up to these days?
In 1988—still at the top of my career—I started to attend art school in NYC, the Sculpture Center and also to paint. So while modeling I was doing art and exhibiting my work. My identity was shifting from Cover girl to Artist. I remember when I first showed my sculpture at the gallery my family attended and I felt I had come full circle reminiscing on my Father's gallery openings back in Haiti. So it was not an abrupt cut off of my activities. A few years later I stopped modeling, went back to school and graduated at Hunter College where I became a special correspondent for The Word their online newspaper. I took classes at CUNY Grad Center, where I researched early Haitian Kreyòl linguistic and

published a paper in the Linguistic American Society.
My heart has always been with my roots. I recently returned from a trip to my native land and this visit reinforces my love for Haiti. Today I am busy being a caring mother and daughter my dad is now 95 years old and my daughter and her husband gifted the family with two children. I continue doing my artwork, I think of ways I can involve myself in the reconstruction of the image of Haiti, pride of Haiti is in the main focus of my thoughts. I attend lectures and cultural events related to Haiti around New York City and network and have fun. My life is where it should be with much more to come.
You're involved in activities involving Haiti. Have you done anything in particular to keep your culture vibrant in your children?
My Father Geo Remponeau is a legendary Haitian artist, so it was quite easy for me to keep my daughter in an environment that recalls Haiti. My parents spoke Kreyòl in the home and Haitian music was often part of the background in our home. We went to visit Haitian friends we stayed close to my parents and siblings. I took my child when she was quite young to visit Haiti. I have only one daughter and I made sure she ate Haitian food, learned Kreyòl and participated in family gathering so that she would be aware of her roots. When she married I gave her the present of a root dance performance by the fabulous Haitian dancer Mikerline, her dancers and her drummers. Today to my daughter's three year old child I teach words of Kreyòl, and when we part, he says: "Mwen renmen-w"!
To a Little Girl Who Does Not Feel Pretty
I would say think of yourself as a unique person. Imagine there is no one else like you in the world. God created you to be you; no one else. . .
I would say: stand in front of a mirror and smile at yourself. That is an amazingly simple tool to help you to love yourself. And if you don't have a mirror, smile anyway. A smile will get you very far. In my experience, it will draw people towards you.
On Haiti
When I heard about the massive earthquake, I was home in theUS. I was stunned by the news. The waiting was excruciating. I prayed. It was impossible to imagine that my birth country would disappear.
The earthquake happened on a Tuesday. I was supposed to join my cousins who had gone to Haiti two days prior for a relative's funeral, which was to take place Wednesday. For some reason, I had changed my mind and stayed home in theUS.
The process of accepting that this disaster was true seemed to take an eternity. There were questions swirling in my head which no one could answer: How many had perished? Who were the victims? Would we ever know their names? Was my family alive? I could not stop crying about the disaster, the loss, and the uncertainty
The film, which was showcased as a video and installation piece at several exhibitions in Finland in 2010 (such as the Alice in Wonderland exhibition and the Turku European Capital of Culture 2011 Exhibition), explains how she became a model and how it was to be one of the first black girls to get into magazine covers in the U.S. "It touches on the issues of identity and culture, from the perspective of Jany Tomba, in images and narration."
Jany Tomba today, posing with her niece Sasha Huber
From the dimple on her cheek to the warm smile on her face, Jany Tomba's look captivated America for over two decades. As one of the first black super models in America, Jany is truly an inspiration. Her niece recently made a short video of her experiences,
I Love Jany
.
I love JaNY, 2010 from Sasha Huber on Vimeo.
Description: I ♥ JaNY is a portrait of Jany Tomba, the artist's aunt, who at an early age, in the 1960s, experienced what it is like to emigrate with her family from the dictatorship in Haiti to New York. Ever since Sasha [Huber] was a child, she has been fascinated and inspired by Jany's life as a model, a mother, an artist, and now as a grandmother. Huber was curious to find out what expectations and dreams Jany had, and how the various incidents in her life led her into a career that she knew almost nothing about–that of a successful, ʻearly-generation' black fashion model, spending over 25 years with the Ford modeling agency.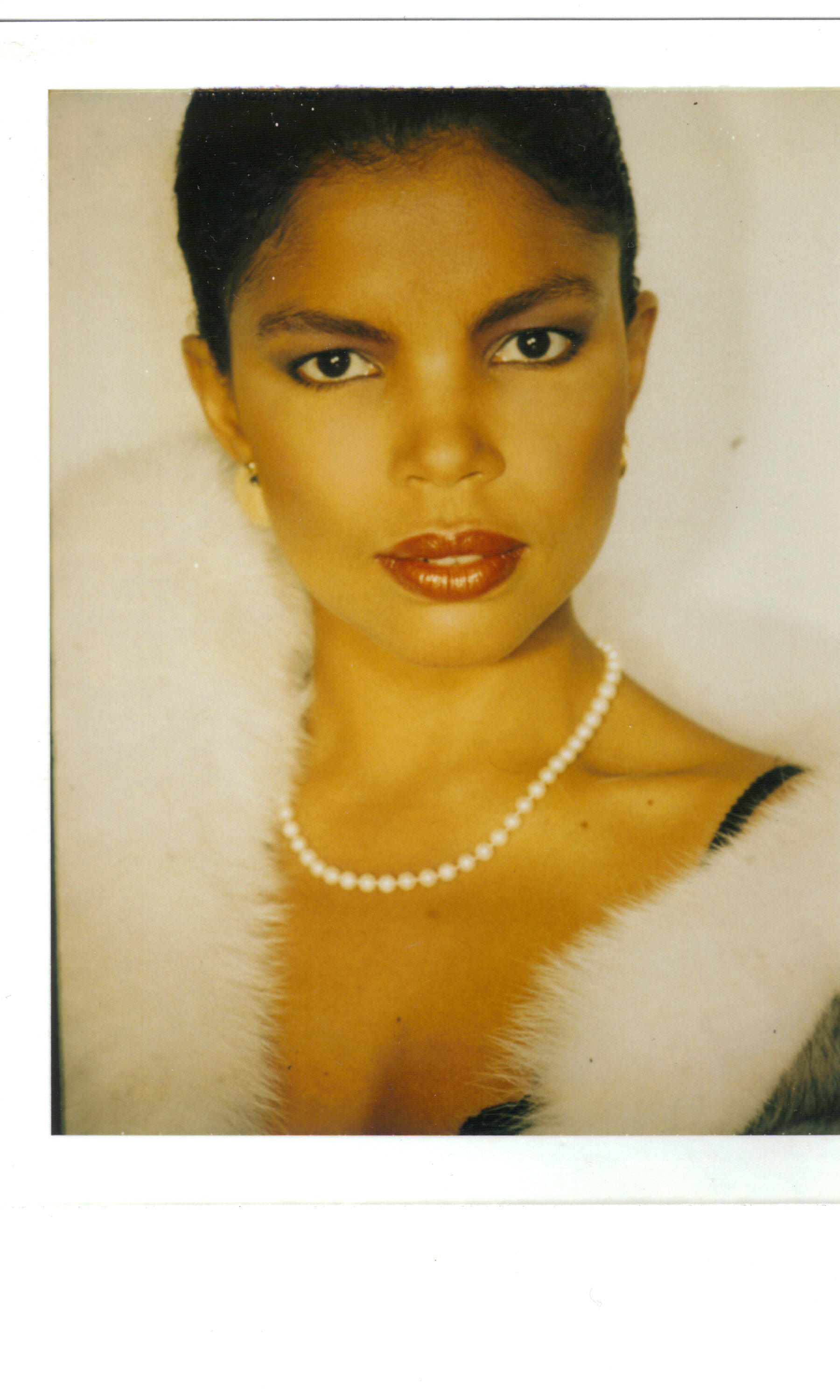 The work became a way for Jany to get her voice heard by generations of young Black women. By her example she encouraged them to embrace themselves for what they are and, for instance, to wear their hair naturally curly. She was able to apply her positive energy and artistic creativity in fashion styles and designs that eventually evolved into visual art in New York. She loves the city that has become her home, but that does not mean she has ever forgotten about her homeland, Haiti. It is Haiti's lush, but endangered nature that Jany has missed most during all the years she has lived in the concrete jungle of NYC.