Elle Fanning, styled by Carine Roitfeld and photographed by Karl Lagerfeld
Carine Roitfeld has dropped hints about working with Karl Lagerfeld on an upcoming book, and now there's photographic proof. A preview — and details about the collaboration — are in the new issue of V magazine, on newsstands tomorrow, Nov. 9.
The project, which is still being produced, centers around the classic black Chanel tweed jacket. Lagerfeld has been shooting (and Roitfeld styling) portraits of stylish women (and a couple of men) of varying ages and occupations — think actors, models, and heiresses — wearing the jacket, in order to explore the many different ways it can be worn. "This jacket is a vital and irrational impulse open to creativity and transformation," Lagerfeld explains, adding: "Especially in the hands of Carine Roitfeld."
Saskia de Brauw, styled by Carine Roitfeld and photographed by Karl Lagerfeld
Daphne Groeneveld, styled by Carine Roitfeld and photographed by Karl Lagerfeld
Dakota Fanning, styled by Carine Roitfeld and photographed by Karl Lagerfeld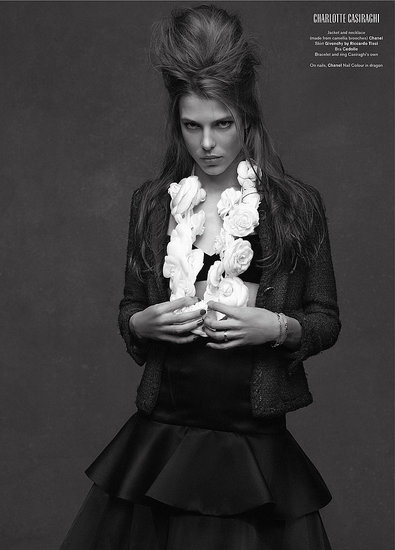 Charlotte Casiraghi, styled by Carine Roitfeld and photographed by Karl Lagerfeld